Schlafsäcke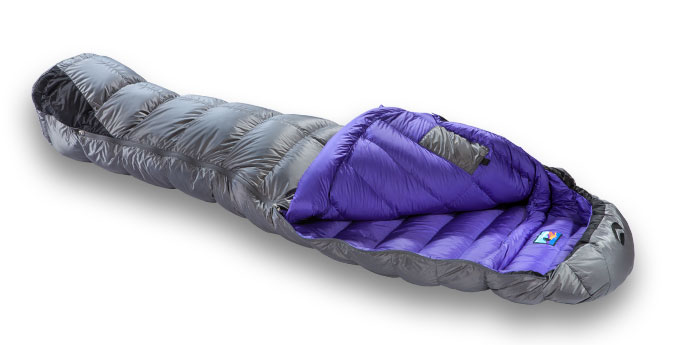 The Chill Out 650 RDS is a 3 season bag that extends your adventures into early winter.
With a sophisticated 3D tubular construction of the shell, the bag offers a maximum comfort when you're ready to chill out or sleep.
The concept of the Chill Out 650 RDS is a mixture of our high tech tubular construction, assembled using pre-cut anatomical baffles that are a proven technology from our goose down expedition sleeping bags, and our new RDS white European 90/10 800Cuin/US goose down. It's wide volume design allows ample layering to extend this bag into lower temperatures.
RDS Label guarantee that DOWN used for this product is animal abuse free and has been managed in accordance with the "Responsible Down Standard (RDS)" for every process from farming and plunking to processing and ditribution.
EN ISO 23537-1:2016 Testergebnisse PDF
Extrembereich :

-22°F

/

-30°C

Unterer Grenzbereich :

14°F

/

-10°C

Komfortbereich :

25°F

/

-4°C

Mit mehr als 30 Jahren Erfahrung bei der Produktion und Vertrieb von Daunenprodukten meinen wir, dass -15°C (5°F) im unteren Grenzbereich liegt.
Außenmaterial :
100% Polyamide Nylon 6 Micro-Ripstop 40g/m2 DWR-behandelt
Asahi-KASEI
Das Innenmaterial :
100% Polyamide Nylon 6 40g/m2 DWR-behandelt
Asahi-KASEI
Kammer-System :

18 durchgehende Kammern, konzipiert nach dem Tubular Technik der zweiten Generation von anatomisch vorgeschnittenen und geraden H-Kammer Wänden.

Daunenqualität :
RDS certified 90/10 White Goose Down


Gefüllt mit RDS-zertifizierten, europäischen 90/10 Schneegans-Daunen mit einer Bauschkraft von 800+ (US-Norm), bzw. 750+ cuin (EU-Norm). Eine starke, langlebige Qualitätsdaune mit exzellenter Feuchtigkeitsbeständigkeit.
✔

METRIC

✔

IMPERIAL
S
M
L
Length(out)
200cm 78.7in
215cm 84.6in
230cm 90.6in
Length(in)
170cm 66.9in
185cm 72.8in
200cm 78.7in
Shoulder
159cm 62.6in
163cm 64.2in
174cm 68.5in
Hüfte
135cm 53.1in
139cm 54.7in
150cm 59.1in
Foot
97cm 38.2in
101cm 39.8in
111cm 43.7in
Compressed Volume

6.5 L

396 in3

7.0 L

427 in3

7.5 L

457 in3
Gewicht
1.04kg 2lb 4oz
1.10kg 2lb 6oz
1.19kg 2lb 9oz
Füllgewicht
612g 1lb 5oz
651g 1lb 6oz
690g 1lb 8oz